Larry vs. Bob: Round Two
Larry and Bob find an engine
Battle of the Amen Saviors
Written by Larry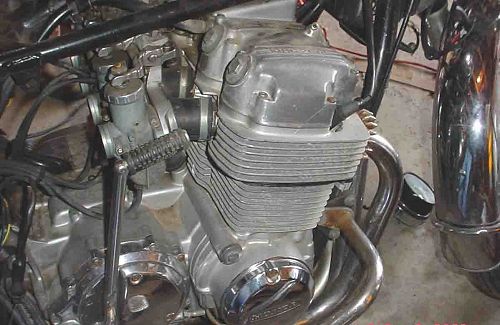 Once we had found the frames the hard part was done. But there still a lot of grease in our future. We started our search for motors to fit the frames we had. Bob has a Amen 750, so of course his search was not a long one, since they are a dime a dozen because of the number of years they were made. It took him about a week and he was able to find the one you see in the pic to the left. He got a 1976 750 SS and a parts one for $500. He didn't even have to travel out of the city to get it. He found it in the Sunday paper. And bought it Monday morning. It was a pretty clean motor and after Bob decided to try to start it before he moved it to the other frame. Unfortunately because of a wiring problem he was unable to get it started but he decided to take a risk and move it to the new frame with hopes that it ran (a common rat bike technique). It had good compression and did not look to bad.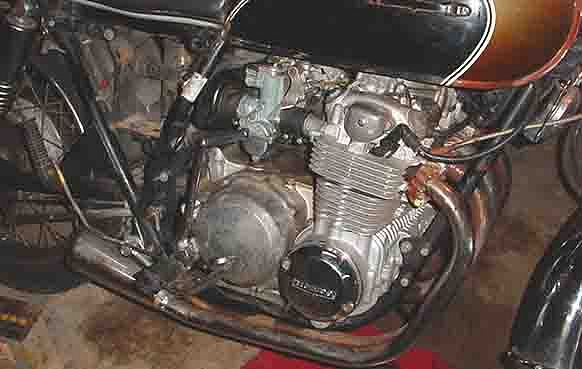 I, on the other hand, was not so lucky. I had to search high and low to find a CB500. I did start looking for my engine a long time before Bob, but it so happened that we found ours one week apart. I had to drive to the other side of my state to pick it up but as you can see by the pic to the right I found one. Unlike Bob, I decided I wanted to know that the engine would run so I started it before the swap and ran it. The drive train was solid but there was a little bit of blow by-- so I decided I was going to rebuild the top half. I wanted to stay away from the bottom because I heard it was a bitch. I knew it was going to be hell, but I also knew it had to be done. It had been a long time since I pulled a bike motor and I did not remember the hell involved.

This picture was taken two days after the picture of Bob's parts bike was taken. Come to find out Bob's wife moved out and he had no way to vent his anger so he spent every waking hour that he was not at work working on his bike. He decided to pull the engine and put it on the Amenby himself with no help. He is not a big guy, but did the move and noted after that his back hurt for four days! But as you can see he got her in. You can also see he started wiring it but, because of lack of sleep and other things on his mind, he hasn't completed it just yet. P.S. Bob is helping me write these and wanted me to thank HondaChopper.com for idiots guide to wiring and the prints for the Santee box-- both came in handy later on in the story.
.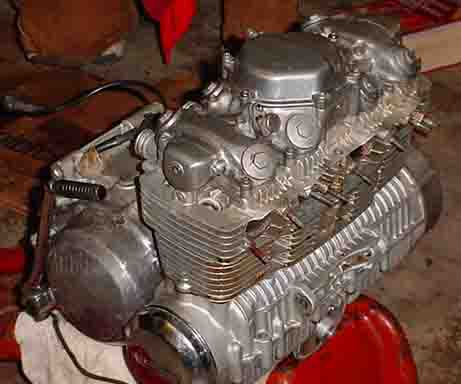 As we told you before because of problems with the engine we decided to rebuilt the top half. We tore it down and started the dirty work of replacing all the seals, pistons, and gaskets. My good buddy Josh Goodwin (and yes ladies, he is single and looking- he's pictured above) helped me out and told me since we had the top apart we should give it a valve job.
Out all the people that have helped me along my process, Josh was there from the beginning and to the end and I am totally indebted to him. He is the brains behind the engine rebuild. I could not have done it without him. But as you can see, with my hard work, and Josh's engine smarts, we completed it. AND- it only took us three days in the freezing cold garage with only mild relief from the propane heater from Hell!
Next for me is to put her in and get her wired up. Bob is in about the same place as I am- so the battle to finish our chop is heating up!